5 RV trends for 2021 and Beyond
May 12, 2021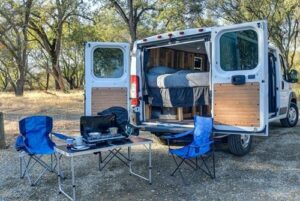 The RV is America's ultimate choose-your-adventure vehicle. More than 11 million U.S. households now own an RV and COVID-19 has driven a surge of RV sales with more families looking to take socially distanced vacations, according to RVIA's 2021 GoRVing RV Owner Demographic Profile. The RV market spans a broad gamut of vehicles from inexpensive entry-level models up to seven-figure class-A motorhomes and everything in between.
Here are the 5 RV trends for 2021 and beyond:
Long viewed as a pastime of aging retirees, RV owner demographics are shifting. Per the RVIA report, more than half are under age 55, 22% are under 35. Rvers are typically married, have an above-average income and own a home.
RV sales will continue to rise as Americans flock to the great socially distant outdoors for rest and relaxation. Rving has been on an upswing for the last decade buoyed by younger, more diverse first-time buyers. Additionally, remote work arrangements means more and more people are exploring America's remotest forests and the 16,000+ U.S. RV parks while working from the road.
Smaller, ultra-lightweight travel trailers will remain popular. The smallest, teardrop campers, are towed by cars and even some motorcycles making them very desirable for those who want to get out of town but don't own a large tow vehicle.
RV dealerships will tell you that traveling with pets is the leading reason why people RV. Pet adoptions and RV sales increased during the pandemic. Coincidence? Maybe not!
Many RVs are rented out when not in use by their owners. RVers who use a shared platform have coverage while the vehicle is rented, but most carriers won't insure the RV because of the business use.
Have an RV or thinking about getting one, give King Insurance & Financial Services a call at 440-243-5555. We can help with all your needs.