What you need to know to insured your Food Truck
April 12, 2022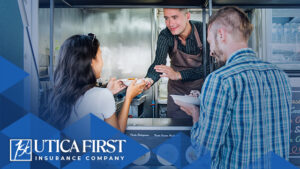 Food truck owners and operators make important investments in their businesses and should be sure they have proper coverage to protect them.
Here's what you need to know:
Because a food truck is operated as a motor vehicle, it's important to ensure that the truck has a Business Auto policy to cover the vehicle and the business for operations while driving.
If the truck has a grill or fryer on board, it must also have a Class K fire extinguisher. Almost any type of food truck is eligible for coverage. Smokers and wood-fired cooking can pose insurance exceptions.
If you are looking to secure coverage for your food truck or are considering opening one, know that standalone food trucks must be in operation at least 9 months of the year.
If your food truck is part of your restaurant, there are policies that will cover liability as a restaurant while the food truck is parked and operating for business.
There are certain insurance companies that will specialize in Food Truck Insurance and here at King Insurance & Financial Services, we have just that.
Looking for more information on Food Truck Insurance, give us a call at 440-243-5555.